Mellotron CD-ROM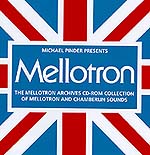 "Michael Pinder Presents Mellotron" is the definitive source for getting the Mellotron sound on your sampler. No loops, no processing, just the full-length sound of each key sampled directly from the most meticulously cared-for Mellotrons and Chamberlins on the planet.
This CD-ROM has been used on recordings and tours by many top artists and producers, including the Smashing Pumpkins, Grant Lee Buffalo, Mitchell Froom, Rick Rubins, Crowded House, Radiohead, The Wallflowers and the Rolling Stones.
Each sound is a 16 meg bank in AKAI format. The disc works great (no tweaks required) on Akai, Kurzweil, E-Mu and Ensoniq ASR-10. (Does not work with Roland 700 series samplers). This is NOT an audio disk, you must have a sampler, Sample Cell or Gigasampler to use this disk.
With the low cost of memory these days, you can affordably load up three sounds at once into your sampler, just like a real Mellotron.

The following sounds are provided:
Mellotron Samples
Flute
'Cello
Viola
3 Violins
16 Violins
Mk II Sax
Boys Choir
Mk II Brass
Mk II Vibes
Mk II Guitar
Mixed Strings
8 Voice Choir
Model 300 Strings
Mk II Strings/Brass
Mk II Organ (hammond)
Mk II Trumpet/Trombone
Half Speed Brass (old Moodies trick)
Mk II Rhythms and Fills
Foxtrot/Sax Phrases
Dixie Land/Trombone
Cha Cha/Swinging Flutes
Bungalow Bill Guitar intro (just for grins) :-)
Moving Bass/Cello and Violin Chords (block)
Bossa Nova/Cello and Violins Moving Chords

Chamberlin Samples
Cello
Flute
Oboe
3 Violins
Alto Sax
Trumpet
Tenor Sax
Trombone
Bass Clarinet.
Male Voice solo
Female Voice solo


The presence of the two "three violins" samples brings up an interesting point. Since these sounds come from the same source (at least one extra generation for the tron set), it's an excellent opportunity to A B compare the sound difference between a Mellotron and a Chamberlin. Remember: these samples were taken directly from restored machines, not from the tape masters.

To order, go to the Products page.