Mellotron Sounds:
3 Violins
16 Violins
Solo Violin
Solo Viola
Solo 'Cello
M300 Strings A
M300 Strings B
String Section
String Section II
Mk II Brass
GC 3 Brass
2 Brass
2 Saxes
Alto Sax
Trumpet
Trombone
Mixed Brass
Mixed Brass B
French Horn
Oboe
English Horn
Recorder
Clarinet
Flute
Bass Flute
Bassoon
Woodwinds
Woodwinds II
Pipe Organ
Piano
Hammond C-3
Clavichord
Vibes (w/ vibrato)
Wine Glasses
Celeste
Male Choir
Female Choir
8 Voice Mixed Choir
Boys Choir
Mixed Choir
Female Solo Voice
Jack Bruce
Accordian
Guitar (nylon)
Guitar (steel)
Mandolin
Hackette
Sound FX
Black Sabbath Sound FX
Tangerine Dream Sound FX
Roxy Music FX
Roxy Music II
Chamberlin Sounds:

Male Voice (solo)
Female Voice (solo)
Alto Sax
Tenor Sax
Trombone
Trumpet
French Horn
Do Wah Trombone
Slur Trombone
Muted Trumpet
Marimba
Piano
Vibes (with vibrato)
Flute
Bass Clarinet
Oboe
Bassoon
Slur Guitar
Banjo
Steel Guitar
Bells (glockenspiel)
3 Violins
'Cello
Dixieland Band Phrases
Sound Effects
Organ
Tibia Organ
Kinura Organ
Harpsichord
Accordian
Electric Harpsichord
Flute/String Organ
Pizzicato Violins
Harp Solo
Harp Roll
Harp 7th Arpeggio
Guitar
Mandolin
---
Don't have MPEG? Go to:

or:

Wave editor/player :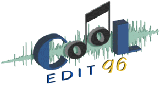 All sounds are approximately 5 seconds long with artificially truncated endings.
Once loaded into your temp files, they will play more quickly.

Copyright (C) 1997-2011 Markus Resch, Mellotron. All rights reserved.
Other products and companies referred to herein are trademarks or registered trademarks of their respective companies or mark holders
If you have questions, please contact markus@mellotron.com.